A Girl and Her Room
Selected Photographs by Rania Matar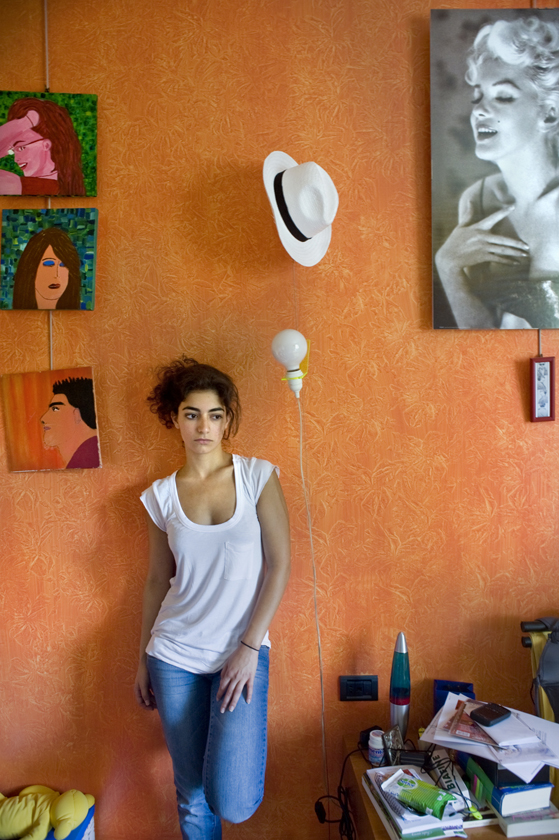 Please hover over image for title. All images courtesy of Rania Matar/INSTITUTE.
In A Girl and Her Room, photographer Rania Matar presents young women in the United States and the Middle East within the context of their most personal spaces, their bedrooms. Like much of her work, the series is inspired by her own children—at the time she was making these images, her eldest daughter was a teenager. It also connects to her work as an educator. She currently teaches at the Massachusetts College of Art and Design, and in 2009 and 2010 she lead photography workshops for teenage girls in Lebanon refugee camps. Some of the participants in those workshops appear in A Girl and Her Room.
"It was powerful that they experienced both sides of the camera," Matar says. "It is always great for a photographer to experience being on the other side of the camera and to get a sense of how vulnerable it feels." Holding the camera, being the image-maker, can be a role of power, but Matar engages the women in her photographs in a collaborative process. They choose how to arrange and present themselves, some gazing directly at the viewer, so that even as the subject of a photograph, each girl is also the artist of her own image.
Negotiating that image, experimenting with how to present oneself in the world, is something young women of every culture experience. "I want to emphasize the universality, what is the same between the girls in the US and the Middle East," Matar says. "Each of these girls is thinking about her future, whatever and wherever this may be, about what is expected of her as woman. Maybe in some instances the surroundings are different but at the core, we are all the same."
Matar was born and raised in Lebanon, and after living in the United States for over 20 years, she returned to the Middle East to create her early professional work. A Girl and Her Room began closer to her current home, in Boston, but extending the series into the Middle East was very natural for her. "People have said to me, 'This doesn't make sense, you need to photograph girls all over the world.' But I don't want to," she says, "because this work is all about identity: the young women's identity, my daughters' identities, and of course on some level my own."
The personal connection between Matar and the young women is apparent in the images. Artist and subject meet in a potentially vulnerable space: each girl's room is an extension of herself, a statement of her identity, or a cocoon to shelter her through her transformation into adulthood. Matar proceeds with great care, both for the person and for the art object they create together. Trained as an architect, she is particularly attentive to the space and lines in the photograph. The compositions have a graphic sense of structure, with the girl boldly situated near the center of the frame, each the heroine of her own story.
Balance is important to Matar, in her work and in life. As a teacher, a mother, a professional, she is someone whom young women will look to as an example. Thinking of her own children, she says, "Most of all I want to model a balance between doing work that I value and am passionate about, and also being available for my children and being the best mother I can for them. If I can encourage others, starting with my own daughters, that is hugely rewarding."
Her own artistic role models are diverse: she pulls inspiration from photography books, from painters, from the multitude of images around her all the time. Her early work reflects an interest in documentary style, but A Girl and Her Room and other recent series develop her characteristic collaborative approach. As you mature as an artist and a person, she says, "you find your own voice, your own way of approaching things."
Images from A Girl and Her Room are available in a book, and the series is featured in an exhibition opening at Stanford University in January 2015, She Who Tells a Story: Women Photographers from Iran and the Arab World.
Rania Matar
Rania Matar documents her life and the lives of those around her, focusing on the personal and the mundane in an attempt to portray the universal with the personal. Her work has won several awards and is widely exhibited and collected in the US and internationally. Originally trained as an architect at the American University of Beirut and at Cornell University, she studied photography at the New England School of Photography and the Maine Photographic Workshops. She now teaches Personal Documentary Photography at the Massachusetts College of Art and Design and is currently a visiting artist and critic at the University of South Florida.